YOU HAVE STRESS URINARY INCONTINENCE (SUI)
if you leak urine when you cough, laugh, sneeze, exercise or do physical activity
YOU ARE NOT ALONE…..
1 IN 10 WOMEN HAVE STRESS URINARY INCONTINENCE (SUI)
– Extremely bothersome
– Frequently neglected
– Many women do not want to talk about it out of shame.
– Many women believe that Urinary Incontinence is part of growing old and that nothing can be done about it.
– Many women do not want to have surgery.
– Fortunately, cost-effective non surgical treatments are available
---
THE ONLY CAUSE OF STRESS URINARY INCONTINENCE: WEAK PELVIC FLOOR MUSCLES
The pelvic floor muscles (PFM) act as a "hammock" to support the pelvic organs (bladder, uterus and rectum) and also to push the urethra against the pubic bone to ensure further closure.
After vaginal delivery and as women age (menopause), the pelvic floor muscles get stretched and become weaker with time.
---
---
WHAT INVESTIGATIONS DOES A DOCTOR NORMALLY DO WHEN YOU HAVE INCONTINENCE?
A urologist or gynecologist normally does the following examinations:
1) Doctor listens carefully to patient's complaints
– to detect type of urinary incontinence
2) Vaginal examination
– to examine the severity of the prolapse
3) Bladder and kidney scan
– to rule out bladder and kidney dysfunction
4) Urine analysis
– to rule out urinary tract infection
5) Urodynamics
– to assess bladder storage and emptying function
---
WHAT ARE THE TREATMENT OPTIONS FOR STRESS URINARY INCONTINENCE
---
1) NON-SURGICAL OPTIONS
1. LIFESTYLE CHANGES
– Maintain appropriate fluid intake (2 to 2.5 liters of fluid per day including water, coffee, tea, juice, soup, porridge etcetera)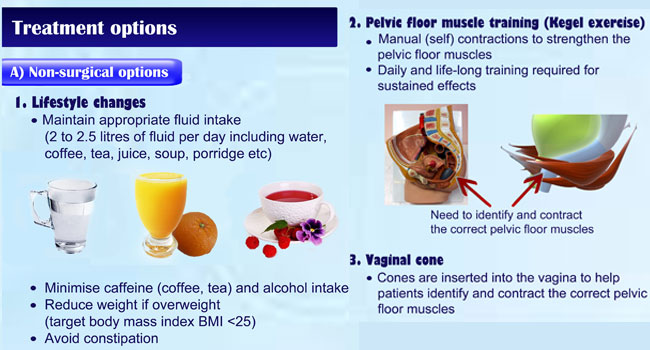 – Minimize caffeine (coffee, tea) and alcohol intake
– Reduce weight if overweight(target body mass index BMI < 25)
– Avoid constipation
2. PELVIC FLOOR MUSCLE TRAINING (KEGEL EXERCISE)
– Manual (self) contractions to strengthen the pelvic floor muscles
– Daily and life-long training required for sustained effects
3. VAGINAL CONE
– Cones are inserted into the vagina to help patients identify and contract the correct pelvic floor muscles
4. ELECTRICAL STIMULATION
– electrodes are inserted into the vagina to stimulate and strengthen the pelvic floor muscles by applying small electric currents.
5. QRS-PELVICENTER MAGNETIC STIMULATION (please find more information on this website)
– Magnetic impulses stimulate rhythmic contractions of the pelvic floor muscle
– Repetitive contractions cause better coordination and control of the pelvic floor muscles
6. EXTERNAL PRODUCTS
– Pads and inserts used to contain/ prevent leakage (temporary relief)
---
2) SURGICAL SOLUTIONS
1. TENSION-FREE VAGINAL TAPE (TVT & TOT)
– A hammock is placed under the urethra like a hammock to keep the urethra in a normal position.
2. BLADDER SUSPENSION (OLDER TREATMENT OPTION)
– Procedure to pull up the bladder neck and sew it to the surrounding bone or tissue.
---
QRS-PelviCenter: The most effective non-surgical solution in treating Urinary Incontinence and other Pelvic Floor disorders
---
What are the key benefits of QRS-PelviCenter?
– No need for surgery
– Non-invasive (no probes, no cones, no electrodes implanted in or around the vagina)
– No need for drugs or medications
– No need to undress. Treatment can be taken fully dressed.
Simply sit on a chair, wearing normal everyday clothing, readin a newspaper.
– Pain free & no side effects
– Fully automated pelvic floor muscle exercise
– Very effective